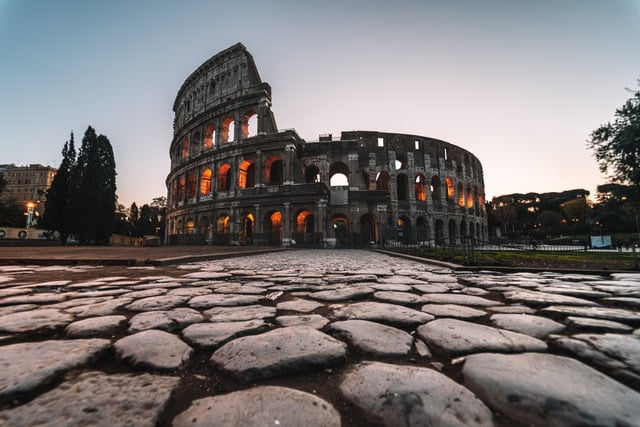 First:
Explore the Colosseum: the Colosseum is the largest Roman amphitheater ever built and is one of the most iconic monuments in the world. It is located in the center of Rome and was used for combat between gladiators, theatrical performances and other forms of entertainment in ancient Rome. Today you can visit the inside of the Colosseum to admire architecture and learn its history through exhibitions and installations.
Second:
Admire the Vatican: the Vatican city is an independent en-cycling within Rome and is the spiritual center of the Catholic world. The Basilica of San Pietro is one of the largest and most impressive churches in the world, with its majestic dome designed by Michelangelo. The Vatican Museums host a vast art collection, including the Sistine Chapel with the famous frescoes by Michelangelo, including the "Universal Judgment" and the "Created of Adam".
Third:
Roman cuisine is renowned for its simplicity and the use of high quality ingredients. Here are some of the main features of Roman cuisine and some of the best known dishes:
Pasta: pasta is a fundamental part of Roman cuisine. You will find dishes such as the "Cacio e Pepe" (spaghetti seasoned with pecorino and black pepper), the "carbonara" (pasta with eggs, bacon, pecorino and pepper) and the "amatriciana" (pasta with bacon, tomato, pecorino and pepper)) Roman pasta is often homemade and cooked "al dente", with a slightly resistant consistency.
Roman pizza: Roman pizza is thin and crunchy, unlike Neapolitan pizza which is thicker and soft. Roman pizza is often served in "cut" style (pizza on cutting), where you can buy a small portion.
Roman artichokes: artichokes are an ingredient loved in Roman cuisine. "Roman artichokes" is a preparation in which artichokes are cleaned up, seasoned with garlic, mint, parsley, and slowly cooked until they become soft and delicious.
Supplì: Supplì are rice pancakes stuffed with mozzarella and tomato sauce. These fried snacks are popular like Street Food in Rome and are delicious and crunchy outside with a streamlined heart of cheese.
Porchetta: La Porchetta is a traditional dish of the Lazio region, and it is a roasted pig, often seasoned with aromatic herbs such as rosemary and fennel. The meat is crunchy outside and tender inside.
Gelato: Rome is famous for artisan ice cream. You can find ice cream parlors throughout the city that offer a variety of tastes, from classic ones such as chocolate and vanilla to the most unusual tastes such as tiramisu or pistachio.
Bucatini alla Amatriciana: this dish is another Roman classic. It is made with Bucatini (a type of pasta similar to spaghetti but with a hole in the center), pillow (an Italian bacon), tomato and pecorino. It is a rich and tasty dish.
Roman abbacchio: this is the coral lamb, cooked with heart, liver, Roman lettuce and flavored with herbs and spices. It is a delicacy of Roman cuisine. Roman cuisine is characterized by the freshness of the ingredients, the thrifty use of spices and the tradition of cooking with passion and dedication. When you visit Rome, be sure to savor local dishes for an authentic and tasty experience of Roman cuisine.
Forth:
Visit museums and art galleries: Rome hosts a rich artistic and cultural tradition. The National Roman Museum is divided into different locations and exhibits a vast collection of Roman finds. The Borghese Gallery is renowned for its works of art, including Sculptures by Bernini and Caravaggio's paintings. The Capitoline Museum is the oldest public museum in the world and houses a vast collection of Roman works of art and antiquity.
Fifth:
Stroll through the historic center: the historic center of Rome is a labyrinth of picturesque streets, crowded squares and historic sites. Piazza Navona is famous for its elliptical shape, fountains and statues, while Piazza di Spagna is famous for its Trinità dei Monti staircase and the surrounding luxury boutiques. The Trevi fountain is an iconic baroque fountain where it is traditional to throw a coin to secure the return to Rome.
These activities only offer a taste of the numerous experiences that Rome has to offer. The city is rich in history, culture and architectural beauty, so explore it in depth will be an unforgettable experience.
If you like the idea to discover more Rome you can come to our Rome free walking tour, that we are providing in the city. It is very easy you can book here our tour and you could come to the meeting point and we are happy to show the beautiful Rome, with the best secrets of this monumental City.